A stranded mother elephant and her calf were rescued after falling into a golf course drain, before vets revived the unconscious cow with CPR.
The elephant and her calf had slipped into the 7-foot-deep hole during a storm, which made the grass muddy and wet, in Nakhon Nayok Province, Thailand, on July 13.
Vets struggled to free the pair because of the torrential monsoon conditions during the rainy season. The distressed 10-year-old mother was standing over her child to try and protect him when wildlife volunteers tranquilized her.
She hit her head on the ledge of the concrete structure, which knocked her unconscious.
(Video Credit: Newsflare)
Worried vets went to revive the elephant after she was pulled out of the hole with a crane. Dramatic footage shows three vets using their weight to put pressure on the animal's chest to resuscitate her.
The 1-year-old calf was rescued afterward. It took the team more than three hours to complete the rescue.
Khao Yai National Park Department vet Dr. Chananya Kanchanasarak said: "It was impossible to get near the baby while the mother was nearby, so we gave her three doses of tranquillizers but she moved towards her baby before passing out and hit her head."
Dr. Chananya said the mother regained consciousness after being stimulated by both her and the baby.
Park rangers feared that the mother might cry for help from the nearby herd of 30 elephants should the men attempt to pull the baby free, so they chose to wait for the vets instead. A team had set up a temporary barrier to prevent them from approaching the mother and calf.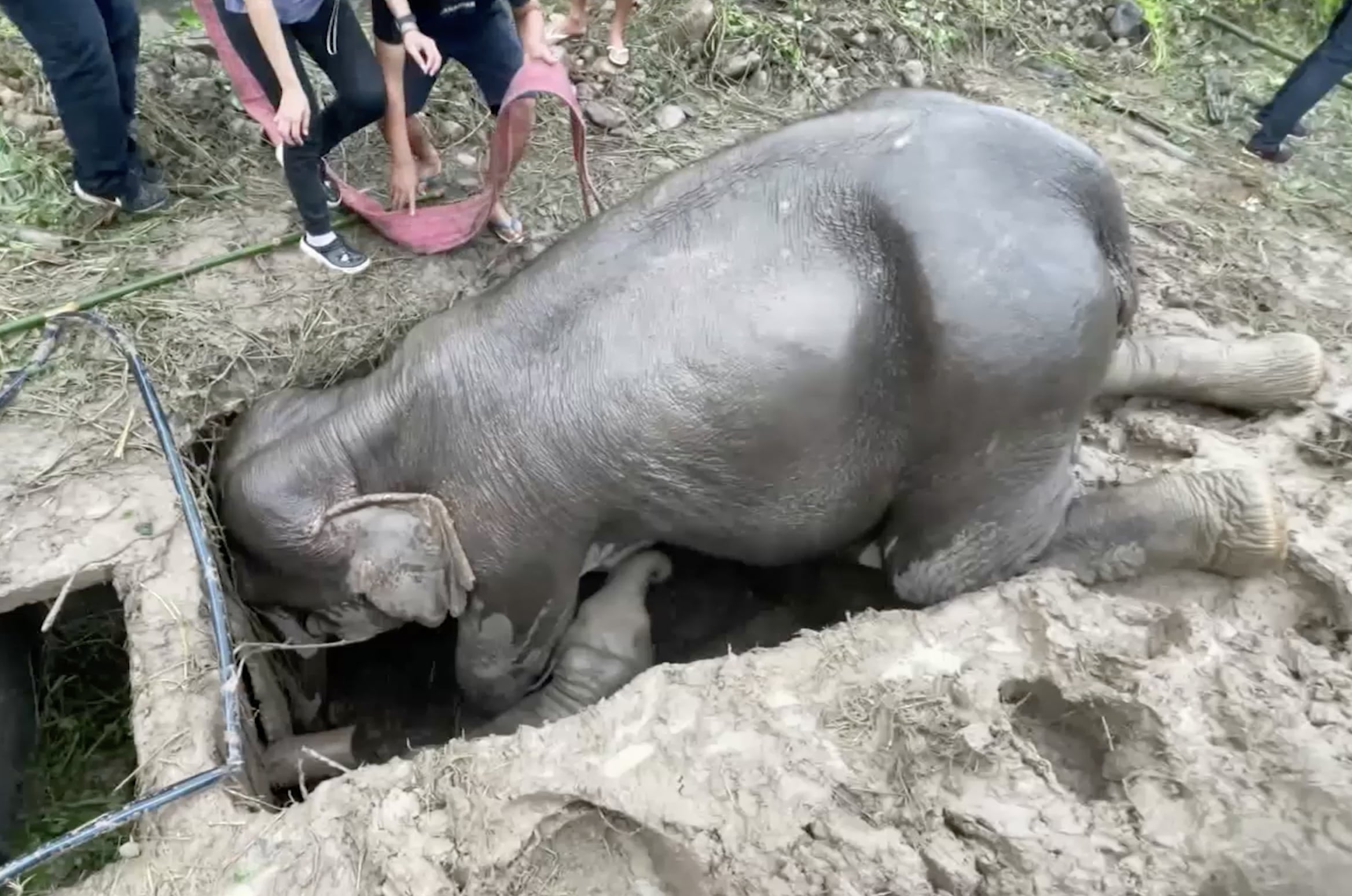 (Screenshot/Newsflare)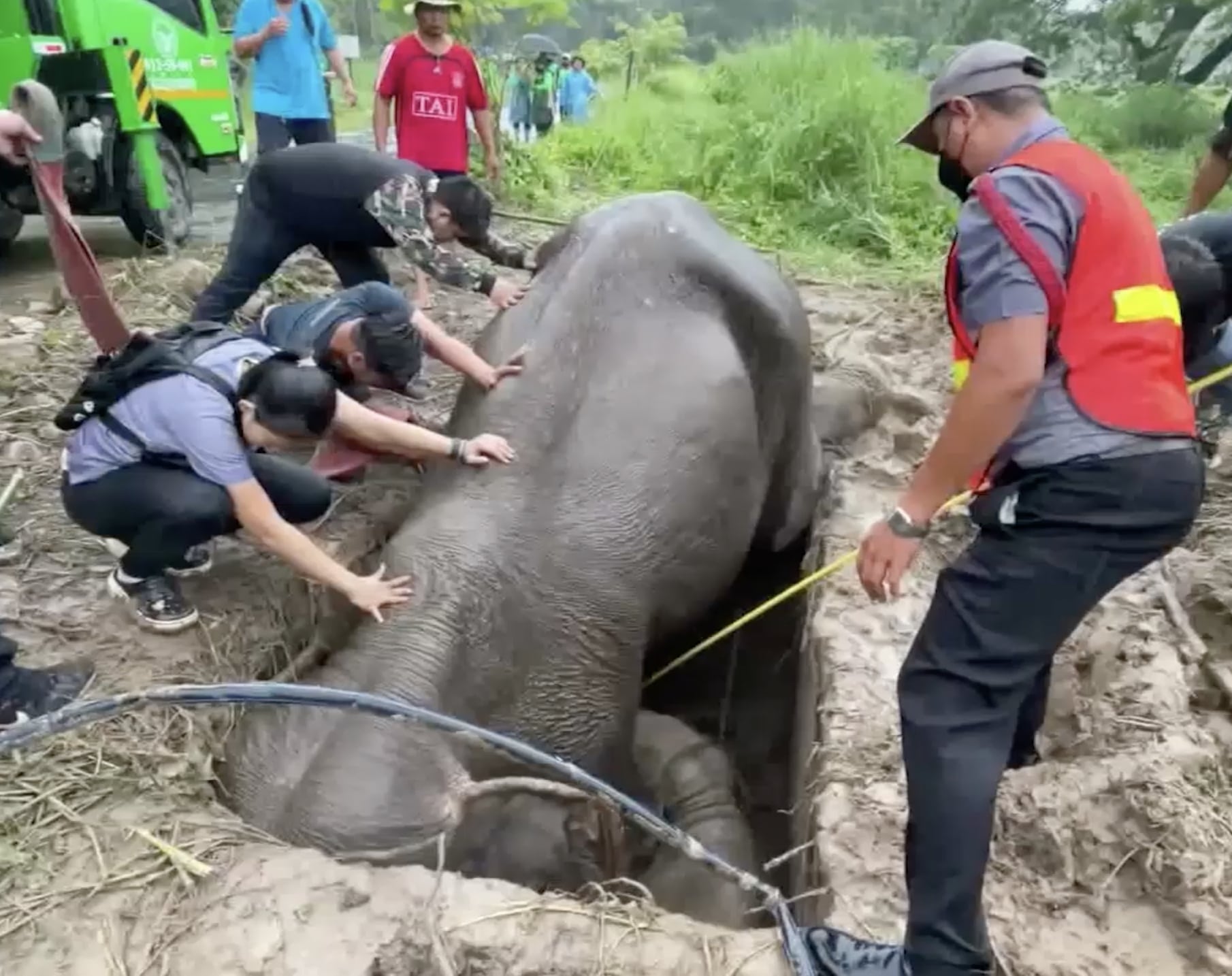 (Screenshot/Newsflare)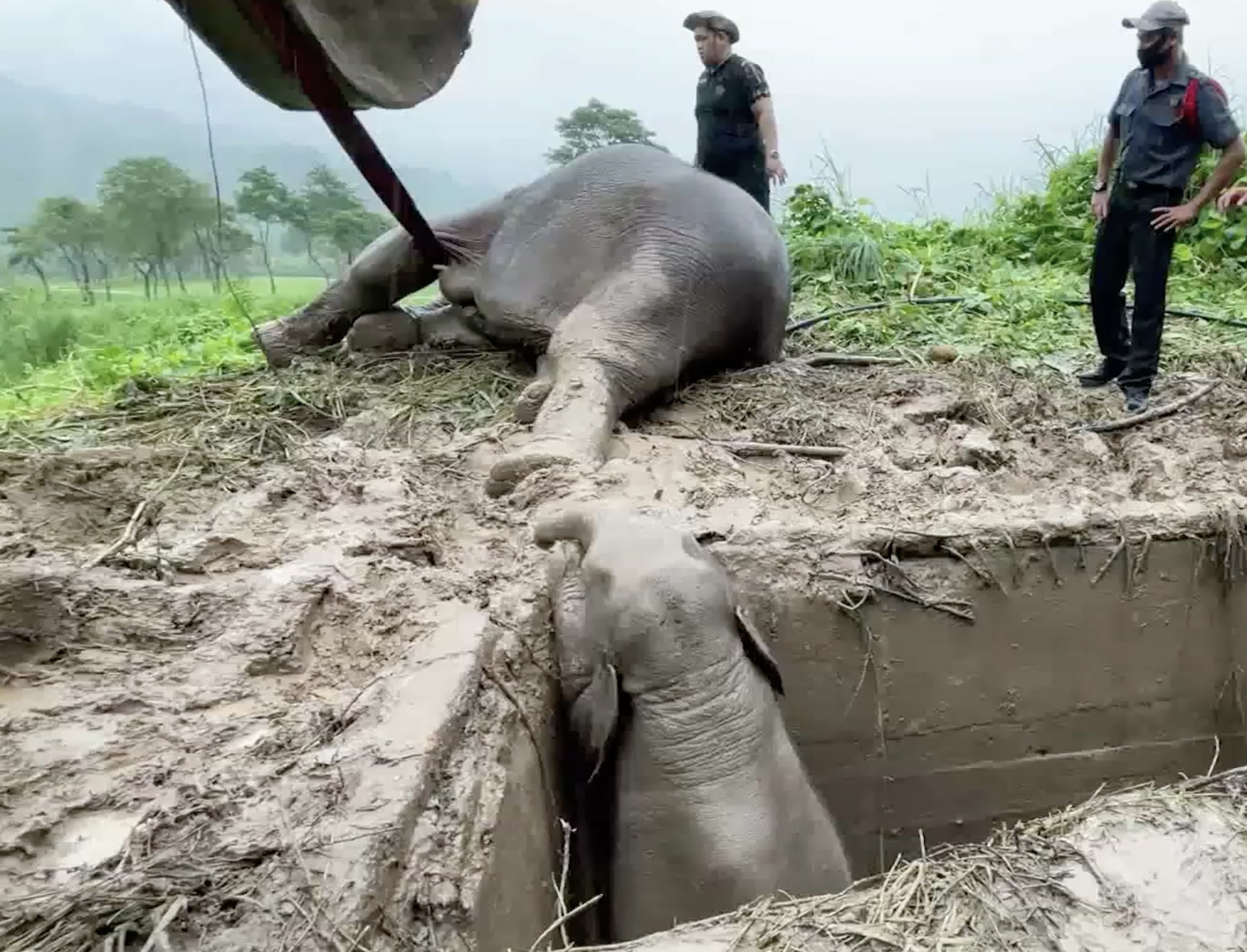 (Screenshot/Newsflare)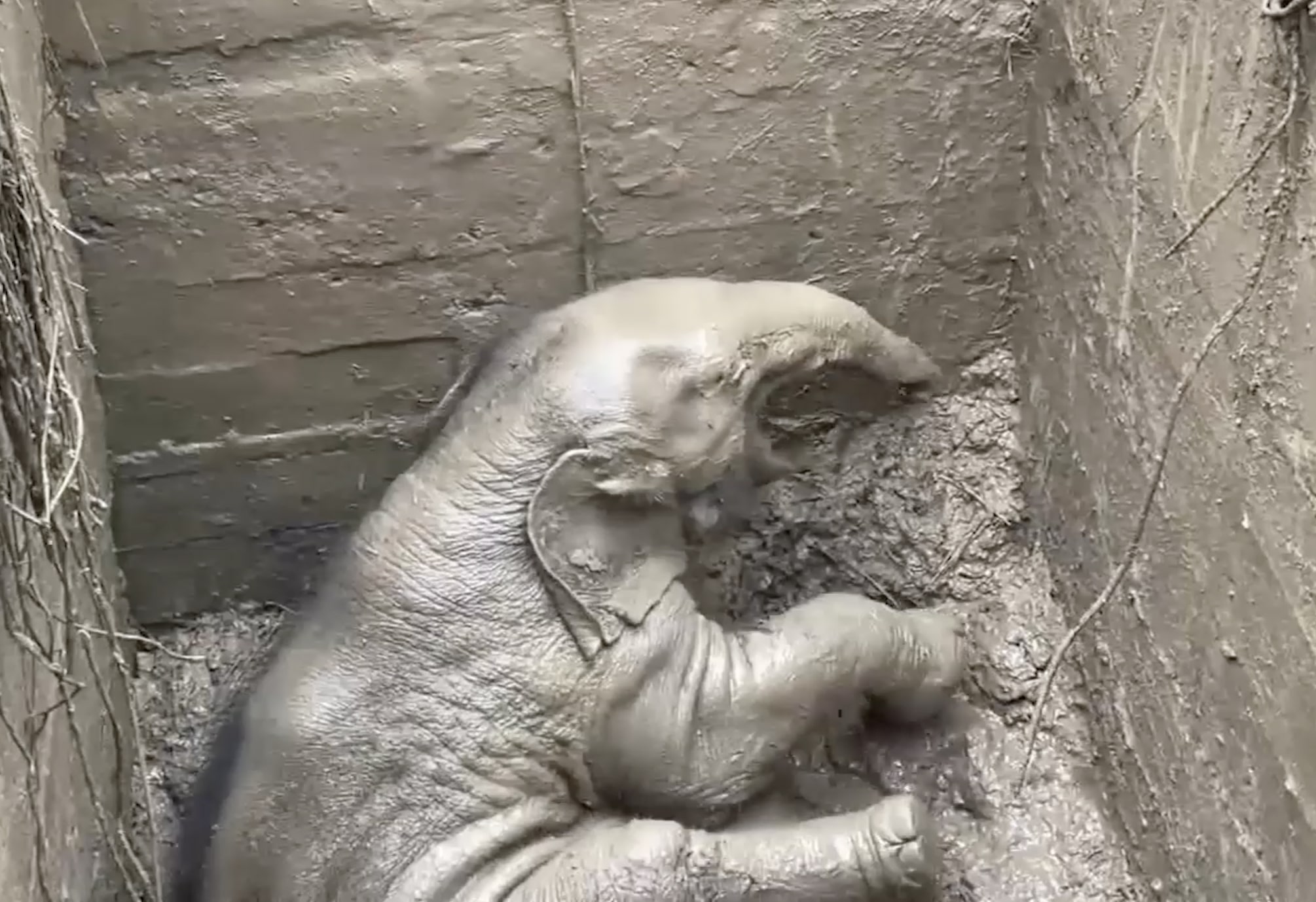 (Screenshot/Newsflare)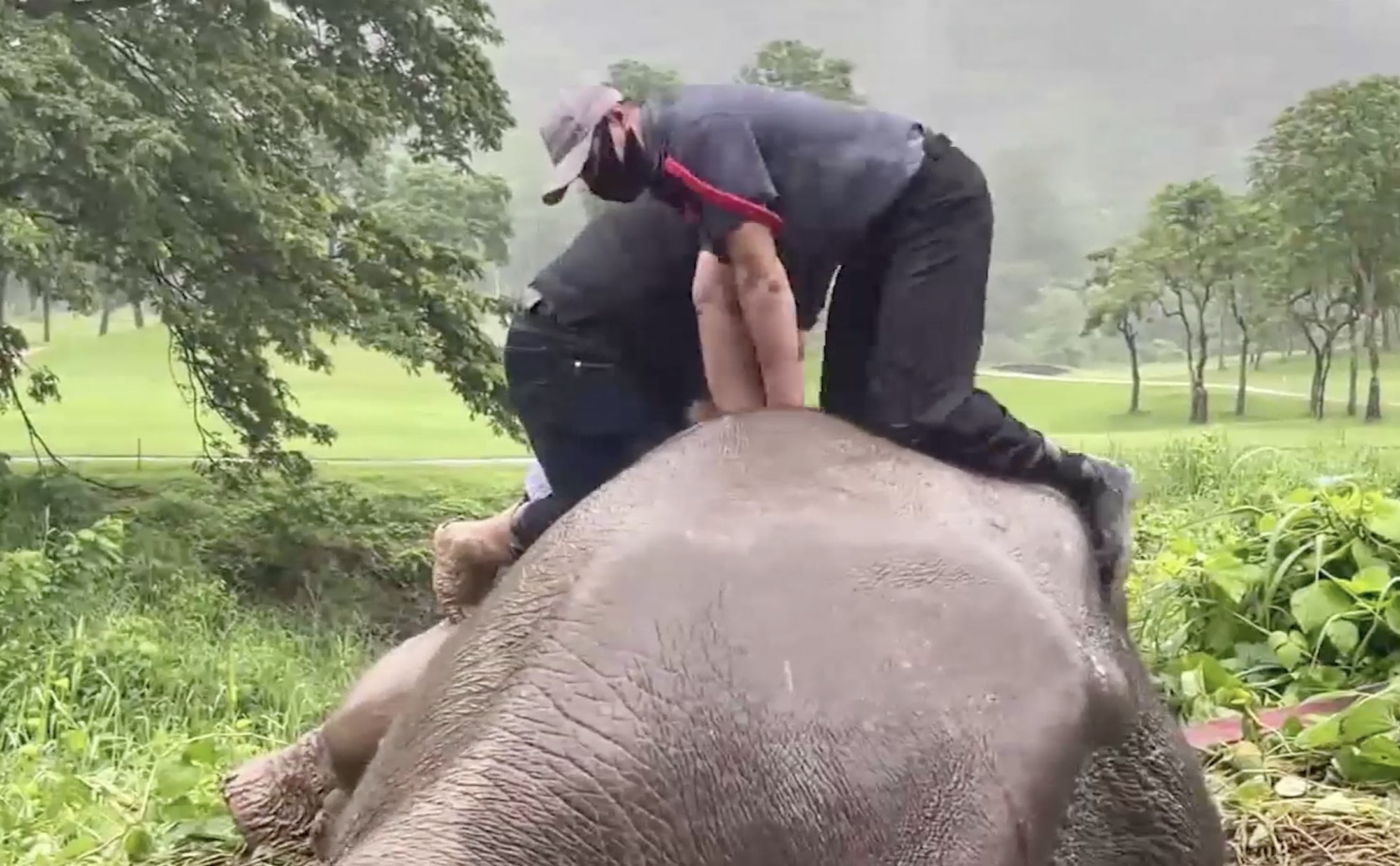 (Screenshot/Newsflare)
(Screenshot/Newsflare)
The vets were relieved that the baby elephant, who had been trapped since the night before, had suckled milk from the mother while she was unconscious in the hole.
A crane was used to pull the animals out of the drain, after which the vets proceeded to revive the mom. Once she touched solid ground, three vets used their weight to resuscitate her and attempted to treat her for a potential head injury from the fall.
Fortunately, she woke. Vets and park rangers fled as the pair reunited.
Delighted, park rangers and vets were seen watching as the mother and calf disappeared into the forest.
Dr. Chananya said: "Despite the obstacles, the mother did not leave her baby's side. This experience touched our hearts and will be one of the most memorable rescues we've done."
The vet said that both "mother and baby are safe" and she thanked people for the "hard work of all parties involved in the rescue."
There are an estimated 4,000 elephants in Thailand. About half of these live in captivity in animal camps, zoos, and sanctuaries. The remainder roam national wildlife parks.